Save $10 off your next order of $99 or more at Bodybuilding.com! Coupon Code: 10off99afflat
Fat Loss Book Of The Month
Fat Loss Revealed is a complete blue print to fat loss success. Everything you need to know about diet and nutrition, 40+ fat-loss supplement reviews, workout, cardio and the mental edge are covered in Will Brink's ultimate guide.
Muscle-Building Book Of The Month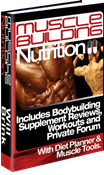 If packing on lean muscle is your goal then you need to check out Muscle Building Nutrition. Learn More...
"Passion and Persistence Makes a Vision a Reality!"
Hello!! If you are ready to make a Complete Physique Transformation then you have come to the right place! Thank you for taking the time to visit my website. If you have any comments or suggestions please send them to russ@russyeager.com.
Sincerely,

Russ Yeager
Sign up today for my FREE Complete Physique Newsletter and receive a copy of my brand new 29 page E-Book "27 Must-Have Tips For A Complete Physique Transformation!" (A $37 Value) Yours FREE as a thank you for visiting my website.
We Completely Respect your privacy. Your e-mail will never be rented or sold.
Save $40 off your next order of $300 or more at Bodybuilding.com! Coupon Code: 40off300afflat
"Russ Yeager's Complete Physique Training Video is one of the most comprehensive training tools I've ever seen! If you're wanting to lose weight, increase lean muscle mass, improve your cardiovascular fitness, or are very serious about building a physique that turns heads, this DVD is a MUST HAVE!"
Robert Selders, Jr., M.S., CFT
Dallas , TX
Russ,
I want to thank you for making the Complete Physique Training Video. It is such a helpful, motivational and inspiring video. Each and every time I watch it I learn something new to take to the gym with me...
Nicole Capadouca
Langley British Columbia, Canada
Read What Others Are Saying About Russ Yeager's Complete Physique DVD!